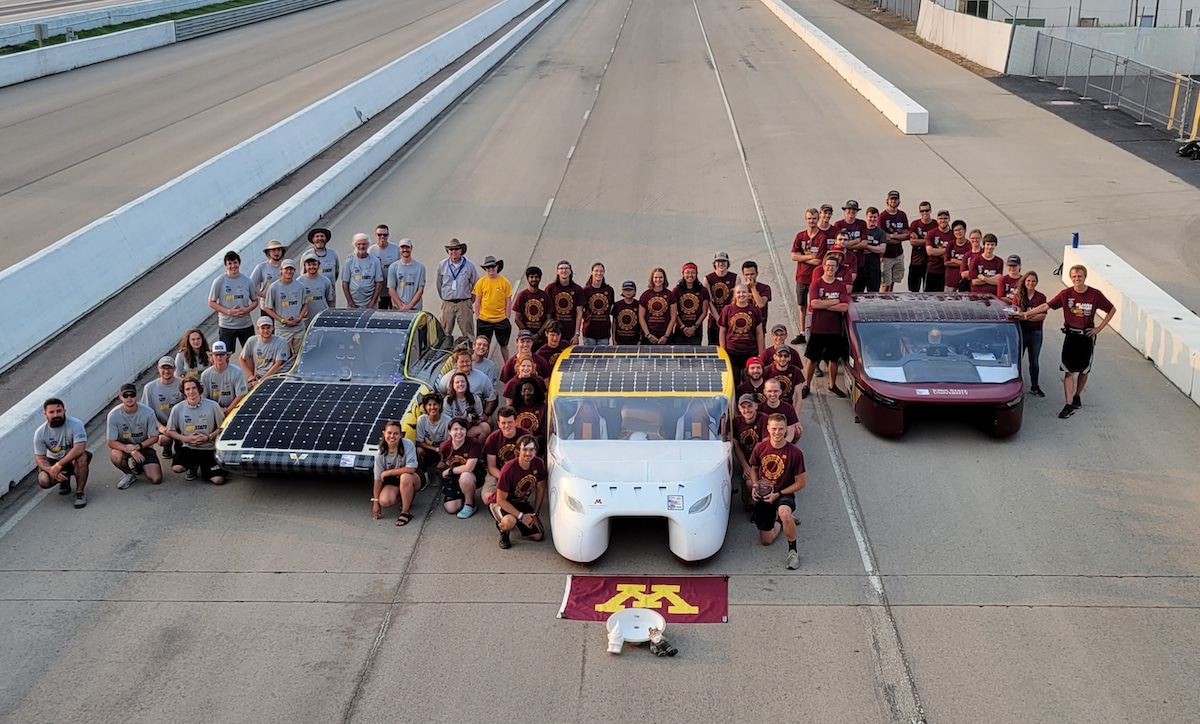 App State's solar vehicle team takes 2nd place in Formula Sun Grand Prix and qualifies for 1,000 mile road challenge
Last updated on August 5, 2021 5:46 pm
BOONE, NC – Team Sunergy, the solar vehicle team led by students from Appalachian State University, overcame significant hurdles last weekend at the 2021 Formula Soleil Grand Prix (FSGP) in Topeka, Kansas , earning its place in the upcoming American Solar Challenge (ASC) – a nearly 1,000 mile road race from Missouri to New Mexico.
From July 27 to August. 1, with temperatures hovering around 100 degrees Fahrenheit, the team went into the details – addressing issues with the brakes, steering and suspension, as well as a badly damaged battery in transit. They worked around the clock to go through a series of critical inspections and driving maneuvers – called technical checks – to get the green light to compete on the FSPG's 2.5-mile track.
"We are so proud of our team, who persevered during the pandemic to represent App State at these competitions for the fourth time, inspiring others and testing the limits of what can be accomplished with the power of the sun," said the Chancellor of the State of App. Sheri Everts.
Once cleared to run, Sunergy team completed the required number of laps in two days, securing second place in the FSGP's Multi-Occupant Vehicle (MOV) category and qualifying for a berth in the ASC road race in four states. ASC began on August 3 in Independence, Missouri, and ends in Las Vegas, New Mexico on August 7. Follow the ASC race.
"This year's team showed heart, determination and a passion for purpose in a test fire competition," said Lee Ball, App State's sustainability manager. "These are the leaders who will forge a better future."
To qualify for the ASC, teams representing 12 universities had to complete 82 laps on a solar-charged battery in one day or 124 laps over two days. The goal of FSGP is not to finish first or go as fast as possible, but to run as many laps with as little energy as possible. Teams are rated according to the efficiency and practicality of their car.
State's Cruiser Class App, Two Passenger Vehicle – ROSE (solar powered race) – completed 129 laps and 322.5 miles and tied the University of Minnesota, the first place winner of the FSGP, with a best lap time of 3:43 (MOV category).
Iowa State University and North Carolina State University were also competing as MOVs. Of the 12 vehicles that competed, nine qualified for the Topeka-Las Vegas trek.
This is the fourth year that App State has competed in FSGP, winning podiums every four years. This year's ASC competition – ongoing at time of publication – is App State's third; the team has been on the podium in the last two.
The Sunergy team started in the fall of 2013 as a classroom project to build a solar powered golf cart and has grown into an interdisciplinary team of students, faculty and App staff. State working together to research and develop solar powered racing cars. Supported by the faculty since its inception, it has been institutionalized and funded by Chancellor Everts, recognized as the team's # 1 fan.
Designed, built and driven by App State's solar vehicle team in 2018, ROSE was redesigned this year by a team of recruits catching up during a pandemic. The car has a top speed of 60 mph and a maximum range of 300 miles on a single battery charge.
Read the details on the specifications of ROSE and its first team.
A sending of the application status to the Sunergy team
At a ceremony on July 23 at the Solar Vehicle Garage, the team unveiled the wrapped car, modified for better performance and efficiency, to around 50 guests.
Before a dramatic reveal with theatrical fog and amplified music, Ball emphasized the interdisciplinary nature of the project, with students representing a variety of fields and interests – from business to communications to sustainable technology. Team advisors include Ball and App State faculty and staff, both current and retired.
Ball also acknowledged Everts, who has supported the team since its inception and whose last-minute intervention secured the funds needed to the first ASC race of the original solar vehicle team.
In her remarks, App State Provost and Executive Vice Chancellor Heather Hulburt Norris praised Ball and the Office of Sustainability for their leadership, saying that Ball "instills in this team their own passion for a sustainable future."
Jessica Navarro-Luviano, a senior sustainable technology major from Mocksville and co-mechanical director and pilot of the Sunergy team, shared the team's improvements to ROSE, which include suspension, battery, brakes and doors. modified – the latter being more robust and comprising a layer of carbon fiber and a new latch.
The ceremony was also a farewell for the team, who left for Topeka the next day. The two-day Team Sunergy caravan trip was a mix of cornfields, heat and long nights, with mechanical and electrical teams working non-stop to prepare for the ROSE race.
Competitive spirit and camaraderie
The day before the start of scrutineering, the good mood of the team was shattered by the news that ROSE's battery had been damaged during transport. The battery is needed to store energy, allowing crews to continue driving in overcast or rainy conditions.
Two members of the mechanics team stepped up – Navarro-Luviano and Stephany Garcia Henao, a senior at Honors College, worked nonstop for the rest of the day, spot-welding cells on the battery. At the end of the next day, the battery was ready to be installed and the team was able to begin technical checks.
"The camaraderie between the FSGP teams is incredible," said Sean Riordan, co-business director of Team Sunergy, a second year double major in political science and economics student from Campobello. "Whenever we encountered a problem, we had teams who offered to help us. Everyone is happy to see the other teams compete, so we are all working together to pass the checks. One example among many: Team Sunergy donated garage space to its sister institution NC State when the SolarPack was unable to secure its own garage.
"I've never been part of a team that has integrated so well," said Jameson Mathews, a senior sustainability technology senior from Raleigh and a member of the Team Sunergy mechanical team. "Working together to build this car has been one of the greatest experiences of my life. I will tell this story to my grandchildren one day.
Sam Cheatham, a double principal in Marketing and Management at Mills River who is the Co-Sales Director of Team Sunergy, shared Matthews' sentiment: "The way this team has been built is amazing. We have overcome impossible obstacles and exceeded our own expectations. We look forward to continuing to compete in the name of sustainability.
The 2021 members of the Appalachian State University Sunergy team at Heartland Motorsports Park in Topeka, Kansas. Pictured front row, left to right, Kyla Willoughby, Jason Harrington, Stephany Garcia Henao, Matthew Allen '21 and Jessica Navarro-Luviano. In the back row, left to right, are Chris Tolbert's son Charlie Tolbert, Hunter Bristow '20, Team Senior Advisor Chris Tolbert, Reid Kerr, Jameson Mathews, Data and Assessment Specialist State of Applications Jim Dees, Patrick Laney, Logistics and Strategy Advisor Ray Sinclair, Austin Liebgott, Griffin Honea, Danna Latiolais '21, Sam Cheatham, Nathaniel McDonald, App State Chief Sustainability Officer Lee Ball, Nicole Sommerdorf, Sean Riordan and Sam Prewitt. Submitted photo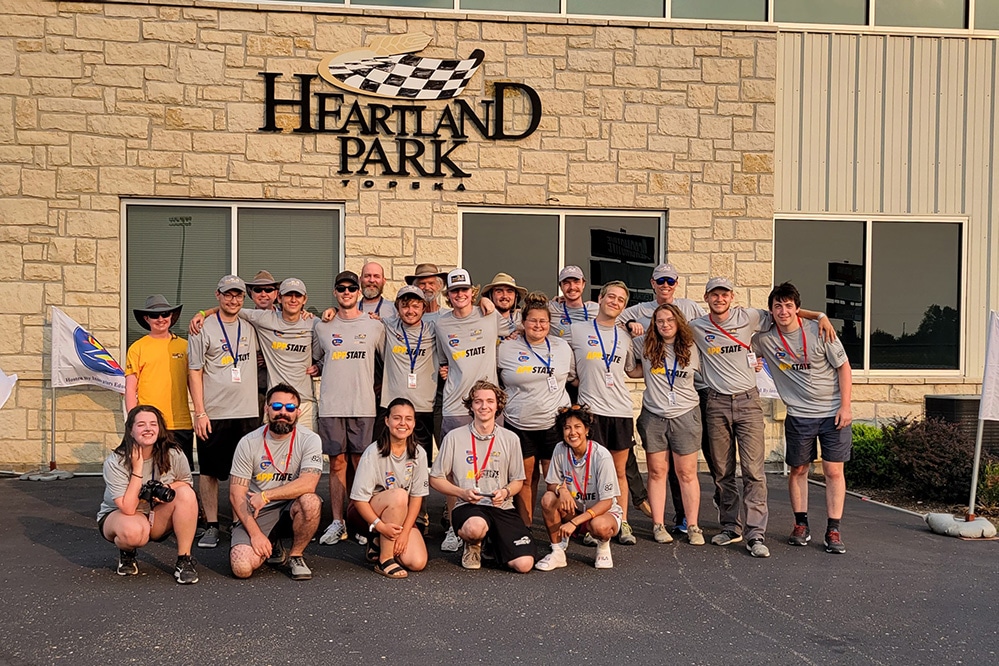 The Sunergy team presents the 2021 edition of ROSE at a farewell event on July 23 in Boone. Pictured, left to right, Reid Kerr, Austin Liebgott, Stephany Garcia Henao, Jameson Mathews, Griffin Honea, Hunter Bristow '20, Patrick Laney, App State Chief Sustainability Officer Lee Ball; App State Data and Assessment Specialist Jim Dees, Sean Riordan and Jessica Navarro-Luviano. Photo by Kyla Willoughby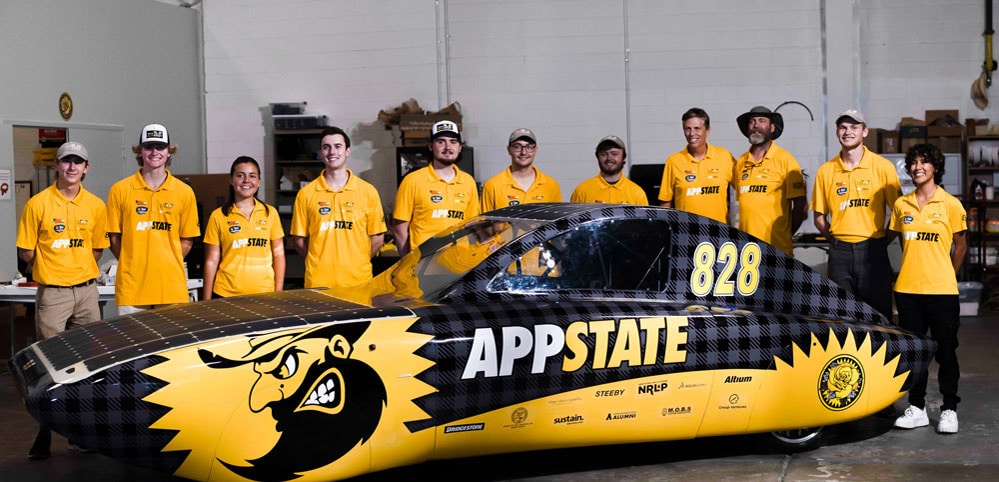 Two members of the Sunergy team lead ROSE to mechanical control inspections at Heartland Motorsports Park in Topeka, Kansas on July 28. Photo by Kyla Willoughby